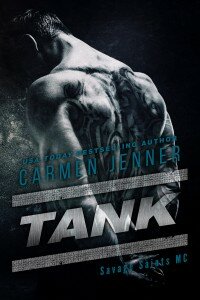 Tank

by Carmen Jenner
Series: Savage Saints MC #2
on September 15th, 2015
Buy on Amazon
Goodreads

Killer. Criminal. Sociopath.

All of these words have been used to describe me, and for the longest time I believed that that's all I was.

I'm the man you call in to clean up your mess, assuming your mess is a guy who needs a bullet to the head. I'm the man the MC calls when they want their dirty work done.

I'm the man who doesn't feel.

Until now.

Until her.

Now my mess is a woman who won't save herself. I'll fight like hell to save her, but at what price to the club? And at what cost to me?

Warning: TANK contains graphic violence, profanity, drug use, and explicit sexual situations that may be a trigger and cause some readers emotional discomfort. Intended for an 18+ audience only. Not intended for pussies.
TANK PRE-ORDER LINK
iBOOKS: http://apple.co/1GEAXqg
Amazon, B&N and Kobo links to come closer to release.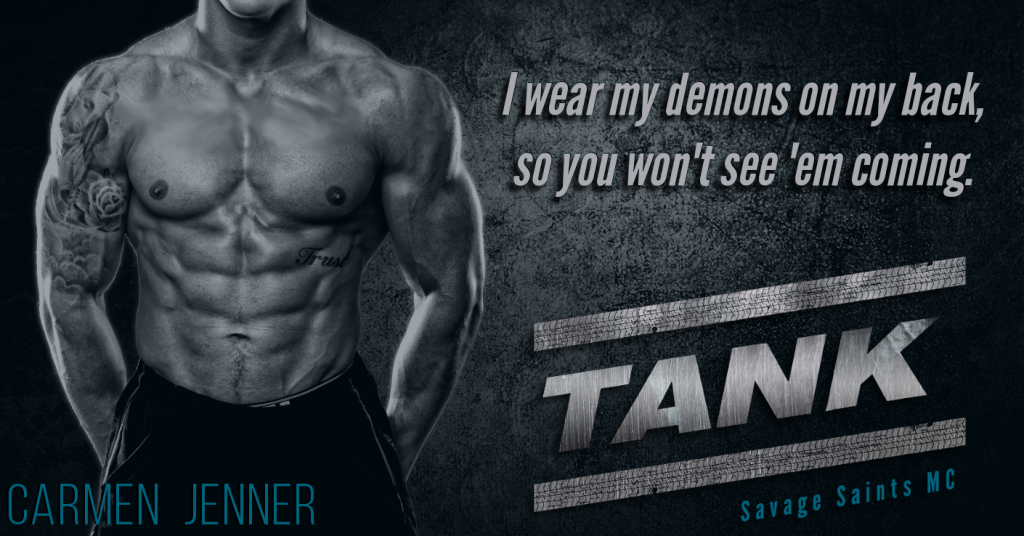 SAVAGE SAINTS MC SERIES READING ORDER:

KICK–TANK–JETT–GRIM– KILLER

Visit the Savage Saints MC Official Website: http://bit.ly/1axwnzO
{KICK (Book #1 in the Savage Saints MC series) Book Trailer}
KICK IS AVAILABLE NOW
AMAZON–US— UK— AU—
iBOOKS—B&N—KOBO—
{AUTHOR BIO}
Carmen Jenner is a thirty-something, USA TODAY Best Selling Author, doctor, pilot and CIA agent.

She's also a compulsive, flagrant prevaricator who gets to make things up for a living.

While Sugartown may not technically exist, Carmen grew up in a small Australian town just like it, and just like her characters, she always longed for something more. They didn't have an Elijah Cade, though.

If they did, you can be sure she would have never left.

WEBSITE— FACEBOOK— TSU— TWITTER— GOODREADS—
{GIVEAWAY}
a Rafflecopter giveaway