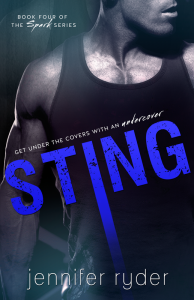 Sting

by Jennifer Ryder
Series: Spark #4
on February 28th, 2015
Format: eBook
Goodreads


Going undercover has its challenges. When Detective Ryan Clark is sent to the sleepy coastal town of Fremantle to dismantle the country's most lethal drug syndicate, it's worth the risk. Even if he becomes a fatality, in the war against drugs.

Ryan finds himself coming back to the same coffee shop. Blondie, the local barista, has him hot under the collar and reaching for his piece. He knows the attraction isn't just one-sided.

She's trying to keep her distance.

It only makes him want her more.

Willow Asher left it all behind, but not by choice.
After two long years, she's finally getting somewhere. Willow has a busy café with her buxom business partner, Gabby, who is the closest thing she has to family.
Although Willow's past still plagues her thoughts, she's determined to have her happily-ever-after. As soon as her demons stop haunting her.
What she doesn't need is the complication of Mr Sexy-Brown-Eyes, who seems to be drinking more and more coffee.
She doesn't want the questions.
She's still trying to get her story straight.

*** For over 18 years. Contains Adult themes. CAN BE READ AS A STAND-ALONE***
{REVIEW}
The quiet voice of a strong heroine breaking the walls of a guarded pure hearted women will send shivers down your spine in an unparalleled and rosewater combustion of chemistry in reading Sting by Jennifer Ryder. The uncanny ability time and time again Jennifer Ryder whispers her voice a vogue of greatness when creating characters and it grips me to read to the very end. In Sting we fall for the sting of being zapped into heart of Detective Ryan Clark further more than the sweeping ogling eyes many of us had for Aidan in Spark when we first got a glimpse of him. The wit of fire and grave protection of serving his life to the police force breaks for an emotional novel upheaving boundaries, sacrifices and a hunger of ooze that weasels into our heart making Ryan running competition with Aidan Stone.
With every book Jennifer writes the dimension of character waves to reality and her ability to show flawless vulnerability leaves for times I could re-read her novels over and over. Willow Asher guards her past with a lock and key having been demolished by pain she is free to live her life and having a coffee shop business partner/ a gal pal Gabby, Willow has carved a home in the sunshine state of Western Australia . Having lived in Western Australia and been to Fremantle numerous times; It was a little bit of my heart that made me relate to the cafe shops in the coastal suburb. The waltz of charm, the sauntered aroma of coffee all blend when Ryan Palm; aka Mr. Detective Ryan Clark walks into her cafe in dire need of a caffeine injection. Life unbeknown was about to take a trip on the wild side with the instant sizzle of chemistry between Ryan and Willow breaking rules; putting missions in danger and all but possibly falling in love.
The Spark series is now an icon in my bookshelf with so much love and devotion the characters embed a lot of heart and soul in each book. Sting; evolves a different evolution of pace and style with Jennifer's writing as Willow deals with the ramifications of living in the now and letting go of the past; with quips of heart and ever hot Ryan, I can definitely say it's sheer ability to core flawed characters with hearted emotion took my breath away.
Perfection yet again with an conveying sway of deep emotion, sheer love & strength in character and the protective nature of two characters bound by heart. Ryan and Willow poured a heart of endearment and breaking down the walls of heart to find a magic beneath. With steam and strength, problems and passion, a sting and a zap of electricity STING truly is finding your heart and having a second chance at finding true love. Jennifer proves time and time again why I will read seemingly any of her work because the branch of heart and stem of characters that are flawed but resonated with deep heart and fire is what I love. A beautiful 5 Star rating, for an absolute treasure of a novel!

{PURCHASE LINKS}
AMAZON US— AMAZON AU — AMAZON UK— iBooks—B&N— KOBO—
{OTHER BOOKS IN SERIES}
SPARK (Spark Series #1)
—AMAZON US—iBooks— B&N— GR— My Review—
SPIKE (Spark Series #2)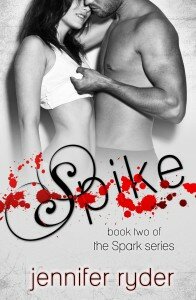 –-Amazon US— iBooks— B&N— GR— My Review—
STRIKE (Spark Series #3)
— Amazon US—iBooks— B&N— GR— My Review—
{AUTHOR BIO}
Jennifer Ryder, New Adult and erotic romance writer, and author of the Spark series.

A sexy imagination, a life-long love of books and a sucker for romance, Jennifer Ryder couldn't stifle her creativity any longer. Writing steamy adult romance has become her new focus. Living on a rural property in New South Wales, Australia, she enjoys the best of city and country.

Her loving husband is ever willing to provide inspiration, and her two young cherubs, and sheep that don't see fences as barriers, keep life more than interesting.

Jennifer placed third in the International Stringybark Erotic Short Fiction Award 2013.

Jennifer is a member of the Romance Writers of Australia and the Australian Romance Readers Association.

WEBSITE— FACEBOOK— TWITTER— INSTAGRAM—